BigEarthNet to nowe, wielkoskalowe archiwum testowe Sentinel-2, składające się z 590 326 poprawek obrazu Sentinel-2. Rozmiar plamki obrazu na ziemi wynosi 1,2 x 1,2 km ze zmienną wielkością obrazu w zależności od rozdzielczości kanału. Jest to zbiór danych z wieloma etykietami z 43 niezrównoważonymi etykietami.
Do budowy BigEarthNet początkowo wybrano 125 płytek Sentinel-2 zakupionych między czerwcem 2017 a majem 2018 w 10 krajach Europy (Austria, Belgia, Finlandia, Irlandia, Kosowo, Litwa, Luksemburg, Portugalia, Serbia, Szwajcaria). Wszystkie płytki zostały poddane korekcji atmosferycznej przez narzędzie do generowania i formatowania produktów Sentinel-2 Level 2A (sen2cor). Następnie podzielono je na 590 326 nienakładających się łatek obrazu. Każda łatka obrazu została opisana wieloma klasami pokrycia terenu (tj. multietykietami), które zostały dostarczone z bazy danych CORINE Land Cover z roku 2018 (CLC 2018).
Pasma i rozdzielczość pikseli w metrach:
B01: aerozol przybrzeżny; 60m
B02: niebieski; 10m
B03: zielony; 10m
B04: czerwony; 10m
B05: Roślinność czerwona krawędź; 20m
B06: Roślinność czerwona krawędź; 20m
B07: Roślinność czerwona krawędź; 20m
B08: NIR; 10m
B09: para wodna; 60m
B11: SWIR; 20m
B12: SWIR; 20m
B8A: wąska NIR; 20m
Licencja: Umowa licencyjna na dane społeczności — zezwalająca, wersja 1.0.
URL: http://bigearth.net/
| Podział | Przykłady |
| --- | --- |
| 'train' | 590 326 |
@article{Sumbul2019BigEarthNetAL,
  title={BigEarthNet: A Large-Scale Benchmark Archive For Remote Sensing Image Understanding},
  author={Gencer Sumbul and Marcela Charfuelan and Beg{"u}m Demir and Volker Markl},
  journal={CoRR},
  year={2019},
  volume={abs/1902.06148}
}

bigearthnet/rgb (konfiguracja domyślna)
Opis config: Sentinel-2 kanały RGB

Cechy:
FeaturesDict({
    'filename': Text(shape=(), dtype=tf.string),
    'image': Image(shape=(120, 120, 3), dtype=tf.uint8),
    'labels': Sequence(ClassLabel(shape=(), dtype=tf.int64, num_classes=43)),
    'metadata': FeaturesDict({
        'acquisition_date': Text(shape=(), dtype=tf.string),
        'coordinates': FeaturesDict({
            'lrx': tf.int64,
            'lry': tf.int64,
            'ulx': tf.int64,
            'uly': tf.int64,
        }),
        'projection': Text(shape=(), dtype=tf.string),
        'tile_source': Text(shape=(), dtype=tf.string),
    }),
})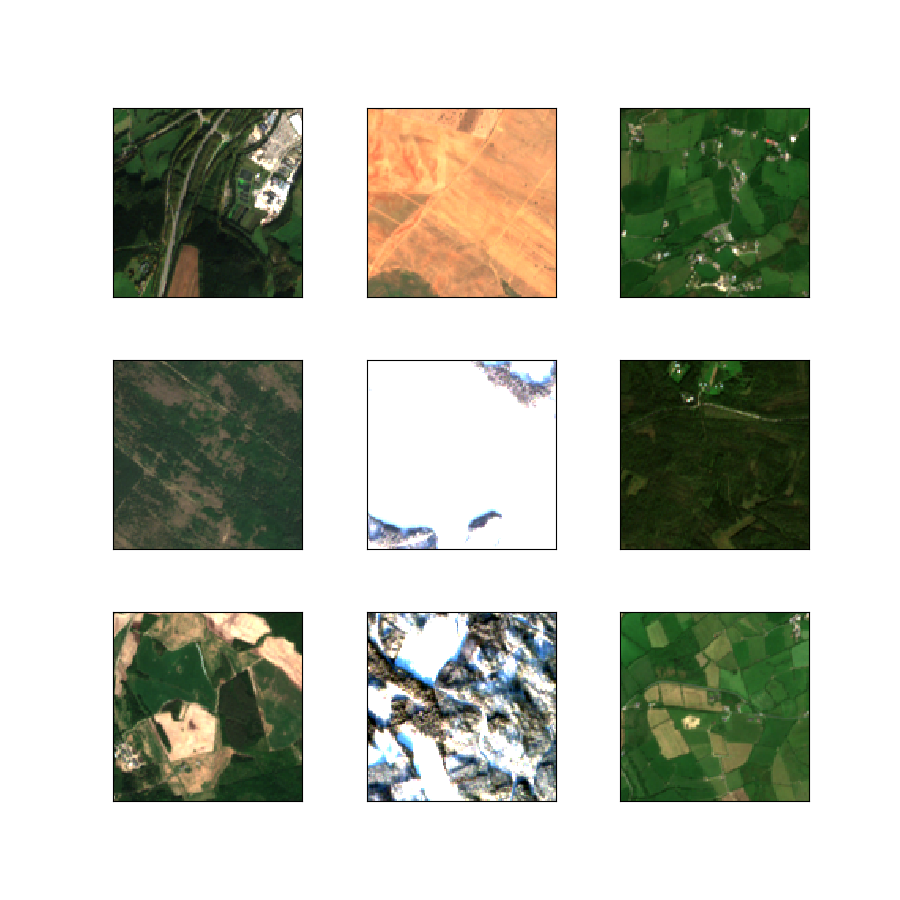 bigearthnet/wszystkie
Opis config: 13 Sentinel-2 kanały

Cechy:
FeaturesDict({
    'B01': Tensor(shape=(20, 20), dtype=tf.float32),
    'B02': Tensor(shape=(120, 120), dtype=tf.float32),
    'B03': Tensor(shape=(120, 120), dtype=tf.float32),
    'B04': Tensor(shape=(120, 120), dtype=tf.float32),
    'B05': Tensor(shape=(60, 60), dtype=tf.float32),
    'B06': Tensor(shape=(60, 60), dtype=tf.float32),
    'B07': Tensor(shape=(60, 60), dtype=tf.float32),
    'B08': Tensor(shape=(120, 120), dtype=tf.float32),
    'B09': Tensor(shape=(20, 20), dtype=tf.float32),
    'B11': Tensor(shape=(60, 60), dtype=tf.float32),
    'B12': Tensor(shape=(60, 60), dtype=tf.float32),
    'B8A': Tensor(shape=(60, 60), dtype=tf.float32),
    'filename': Text(shape=(), dtype=tf.string),
    'labels': Sequence(ClassLabel(shape=(), dtype=tf.int64, num_classes=43)),
    'metadata': FeaturesDict({
        'acquisition_date': Text(shape=(), dtype=tf.string),
        'coordinates': FeaturesDict({
            'lrx': tf.int64,
            'lry': tf.int64,
            'ulx': tf.int64,
            'uly': tf.int64,
        }),
        'projection': Text(shape=(), dtype=tf.string),
        'tile_source': Text(shape=(), dtype=tf.string),
    }),
})