Jest to zestaw danych szacowania pozy, składający się z symetrycznych kształtów 3D, w których wiele orientacji jest wizualnie nie do odróżnienia. Wyzwaniem jest przewidzenie wszystkich równoważnych orientacji, gdy tylko jedna orientacja jest sparowana z każdym obrazem podczas uczenia (tak jak w przypadku większości zestawów danych estymacji pozy). W przeciwieństwie do większości zestawów danych estymacji pozy, do oceny dostępny jest pełny zestaw równoważnych orientacji.
W sumie dostępnych jest osiem kształtów, z których każdy jest renderowany z 50 000 punktów widzenia rozmieszczonych równomiernie losowo na całej przestrzeni obrotu 3D. Pięć kształtów jest pozbawionych cech charakterystycznych — czworościan, sześcian, dwudziestościan, stożek i walec. Spośród nich trzy bryły platońskie (czworościan, sześcian, dwudziestościan) są oznaczone odpowiednio 12-, 24- i 60-krotnymi symetriami dyskretnymi. Stożek i walec są opisane z ich ciągłymi symetriami zdyskretyzowanymi w odstępach 1 stopnia. Te symetrie są przeznaczone do oceny; zamierzony nadzór to tylko jeden obrót z każdym obrazem.
Pozostałe trzy kształty oznaczone są cechą wyróżniającą. Jest czworościan z jedną czerwoną twarzą, cylinder z niecentryczną kropką i kula z X zakończoną kropką. Niezależnie od tego, czy cecha wyróżniająca jest widoczna, czy nie, przestrzeń możliwych orientacji jest zmniejszona. Nie zapewniamy zestawu równoważnych obrotów dla tych kształtów.
Każdy przykład zawiera
obraz 224x224 RGB

indeks kształtu, dzięki czemu zestaw danych może być filtrowany według kształtu.
Indeksy odpowiadają:

0 = czworościan
1 = kostka
2 = dwudziestościan
3 = stożek
4 = cylinder
5 = zaznaczony czworościan
6 = zaznaczony cylinder
7 = zaznaczona kula

obrót używany w procesie renderowania, reprezentowany jako macierz obrotu 3x3

zestaw znanych obrotów równoważnych przy symetrii, do oceny.
W przypadku trzech zaznaczonych kształtów jest to tylko obrót renderowania.
| Podział | Przykłady |
| --- | --- |
| 'test' | 40 000 |
| 'train' | 360 000 |
FeaturesDict({
    'image': Image(shape=(224, 224, 3), dtype=tf.uint8),
    'label_shape': ClassLabel(shape=(), dtype=tf.int64, num_classes=8),
    'rotation': Tensor(shape=(3, 3), dtype=tf.float32),
    'rotations_equivalent': Tensor(shape=(None, 3, 3), dtype=tf.float32),
})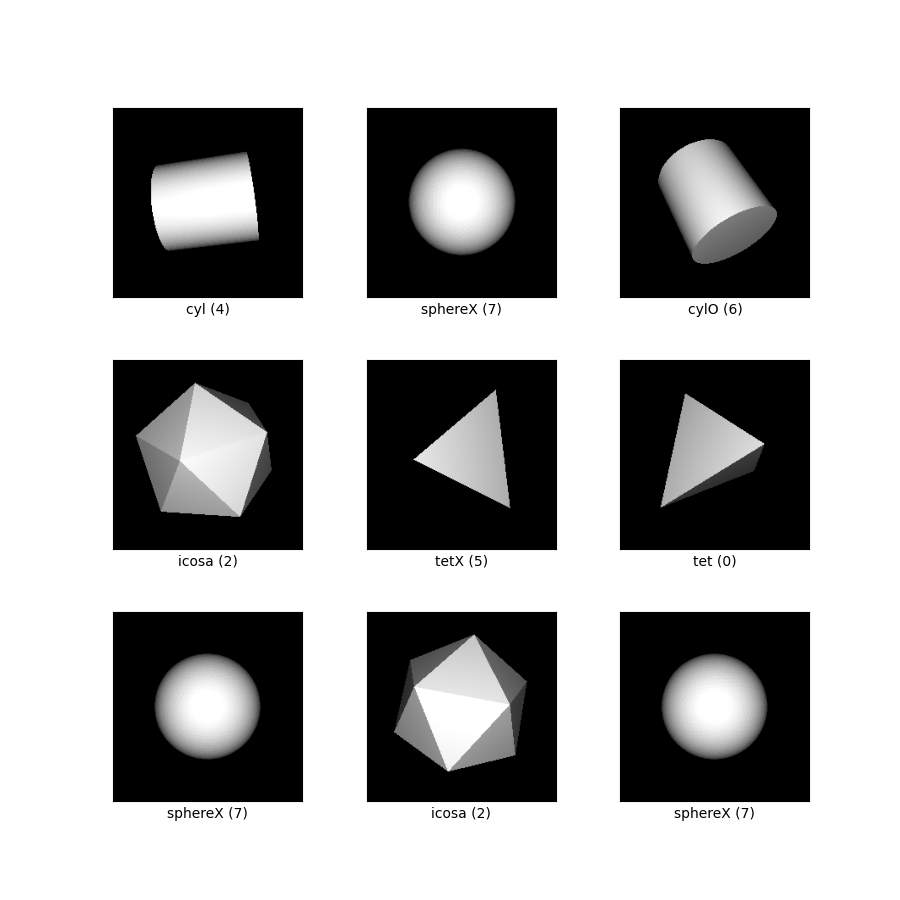 @inproceedings{implicitpdf2021,
  title = {Implicit Representation of Probability Distributions on the Rotation
  Manifold},
  author = {Murphy, Kieran and Esteves, Carlos and Jampani, Varun and
  Ramalingam, Srikumar and Makadia, Ameesh}
  booktitle = {International Conference on Machine Learning}
  year = {2021}
}